Today I am sharing this card over on the
Card A Day Blog
as well. :)
I used this weeks sketch from over at
Atlantic Hearts Sketch Challenge blog
.
That's it for my shout outs. LOL I'd love for you to go back and check out the links to these two great blogs after you check out my card. ;)
The past few months I have had a very rough time personally on many fronts which I won't go into here as this is my happy place! :) My dear sweet neighbour and Great-Aunt in-law and Great Uncle in-law who are in their late 80's have been an absolute God send in helping me cope with it all. They are always out in the yard as soon as they see the kids and I out with smiles on their faces and a listening ear. I absolutely adore them! Last week was particularly troublesome and on Sunday I was greeted with a fresh loaf of brown bread that she made me "Just Because". They are truly a blessing to have in my life.
I decided to make a card for them "Just Because" since well, I don't bake but I DO make cards. LOL
Here's the card I made for them.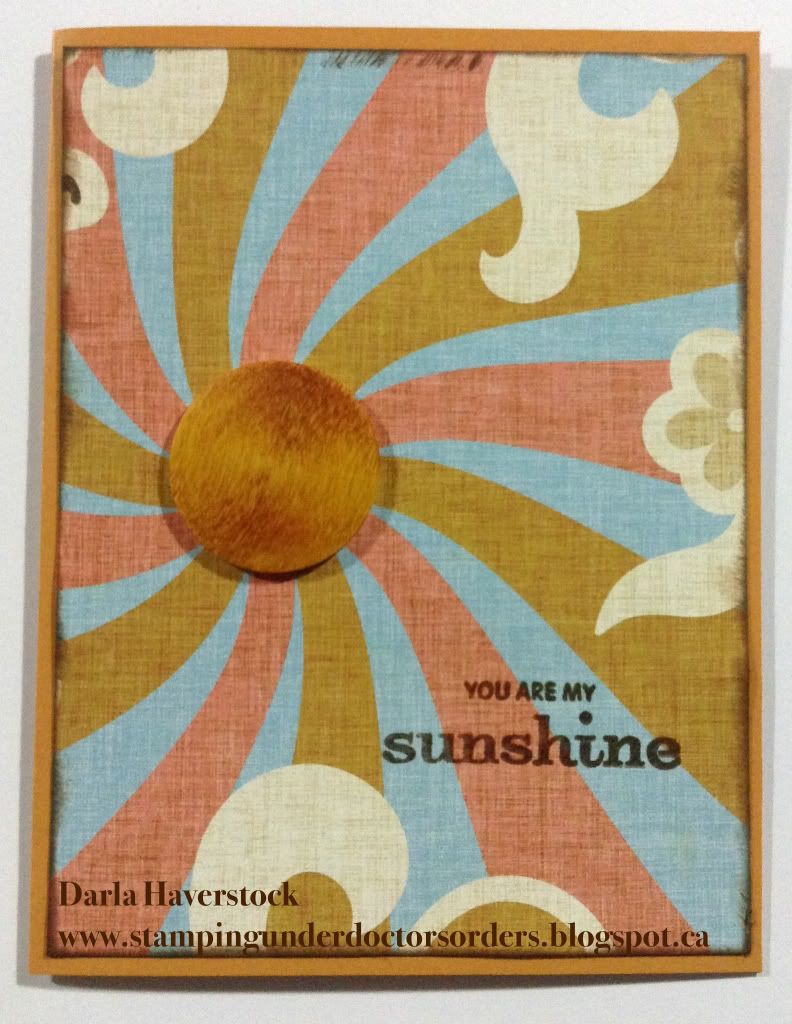 The card base is Goldrush cardstock and the patterned paper is Surf's Up. I used a wooden badge button inked with honey ink (it more closely matches the goldrush on the wooden badge button due to the colouring of the wood). I stamped the sentiment from D1511 Kick Back. with chocolate pigment ink and embossed it with clear embossing powder which is a great solution for embossing in all different colours without owning a million different embossing powders.
Hope you enjoyed my card and make sure you check out the rest of the Design Teams creations using this sketch when they are all posted on the Atlantic Hearts Sketch |Challenge blog tomorrow morning. If you wander over to Card A Day Blog tomorrow as well you'll find another great "Just Because" card from my good friend Lucy.