I have this fun card on the
Card a Day Blog
today.
My husband and my Dad are both very handy and spend lots of time building things or fixing things for people (including me). Their to-do lists often get very very long and both are kind hearted enough to put their to-do lists before themselves (most of the time).
I decided to use the concept of putting away the to-do list as the starting point, added in the current sketch for this week from my new co-hosted sketch challenge blog
Atlantic Hearts Sketch Challenge
(hint hint wink wink… go check it out!!) and voila!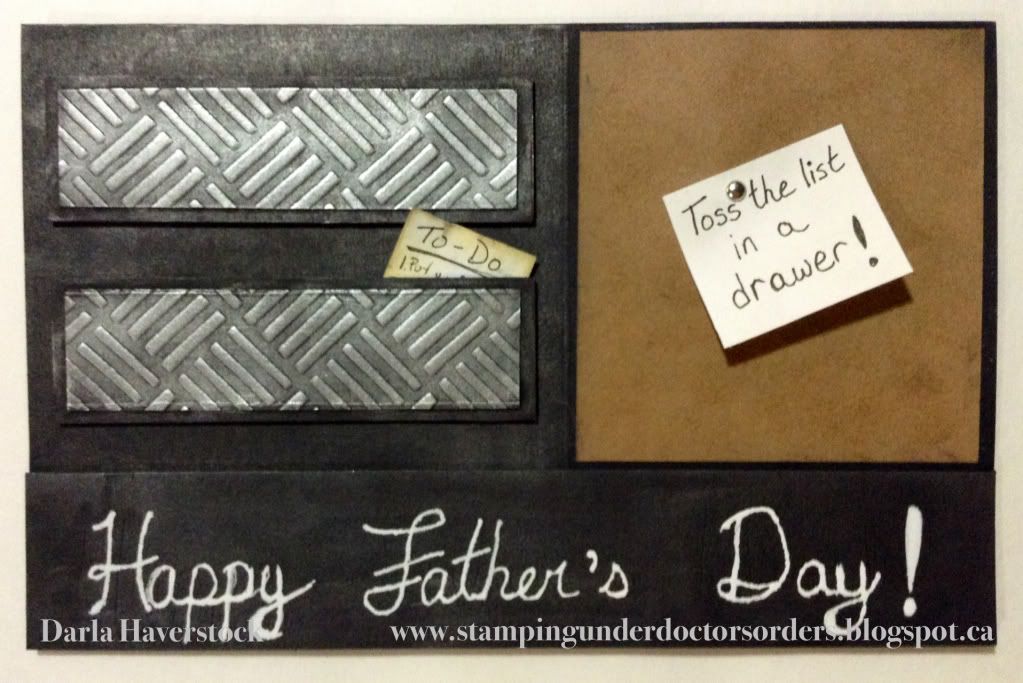 Now, as much as I'd love to show you the inside of this card I can't… for 2 reasons…
My husband and my Dad both read my blog and although I'm not sure who's card this will be I want at least part of it to be a surprise
It's not finished yet.. sssshhhhhh…. I have big BIG plans for it though and I promise to share it with you again after I give it to them.
DIRECTIONS:
This card is actually a full letter sized sheet of paper (8.5" x 11") folded in half so it's a large card.
The bottom piece is 1.25" x 8.5" and is supposed to be the workbench in the garage. The corkboard piece which is really just a piece of Kraft cardstock that I sponged some Desert Sand ink on and distressed the edges with Chocolate a little bit is 3.5" x 3.75". The drawers are 1.25" x 4.25" and the raised panel on the drawers are 1" x 4".
I used one of my home made embossing folders to emboss the drawer panels.
*I make my home made embossing folders 5 different ways but this particular one is a cut from the Paper Lace 2 cricut cartridge and is cut out of stencil plastic. To use this type I just use the same sandwich as you would use to emboss a spellbinder die plus an extra piece of thick cardstock for a shim.
I brushed all of the black cardstock with some Gunmetal and Pewter metallic rub-ons (it's like a wax paste and s awesome for this type of project). I then took my silver Encore ink pad and lightly brushed it directly on the drawer fronts to ink the raised embossing.
I made a quick to-do list (which by the way is an actual to-do list here of my husbands that I re-wrote small and then chopped most of it off to make it fit behind the drawer). My post it note is just a scrap of white I had laying on my desk and my thumb tack is a tiny silver brad.
They don't make sentiments this large for cards and I didn't feel like piecing all the individual letters to spell it out. I couldn't print it since it's black cardstock and you can't print white (unless you have a very high end printing company printer that actually has white ink in it). All this to tell you I hand wrote all the sentiments for this one. hahaha