Welcome to our April Stamp of the Month Blog Hop! This month's stamp from Close to My Heart is "My Sunshine" and is available exclusively through your Close to My Heart consultant from April 1 - 30, 2013. You can purchase this stamp set for only $5 with a qualifying purchase.

If you have just hopped onto my blog, please start at the beginning at Lucy's blog – Love 2 Create. If you came from Lucy's blog – Love 2 Create then you are in the right place!
I decided to keep my card for today fairly simple. I honestly CASEd this from
Show and Tell, with Michelle
. I saw it and really liked her layout and everything. I changed up the colours, paper and the butterfly she had for a button. The button was originally clear but I covered one side of it with sky pigment ink while holding it with a pair of tweezers, dipped it into some clear embossing powder and heated to set the embossing powder. Voila, a perfectly matching button!
The paper strip on the left is Avonlea paper and I used colours from the Avonlea paper to ink my stamp up. I also used the negative cut out from when I cut my balloon shape with the cricut to sponge a bit of slate ink on the background like a shadow as well. The background was sponged using some strips of printer paper to mask it off in sections.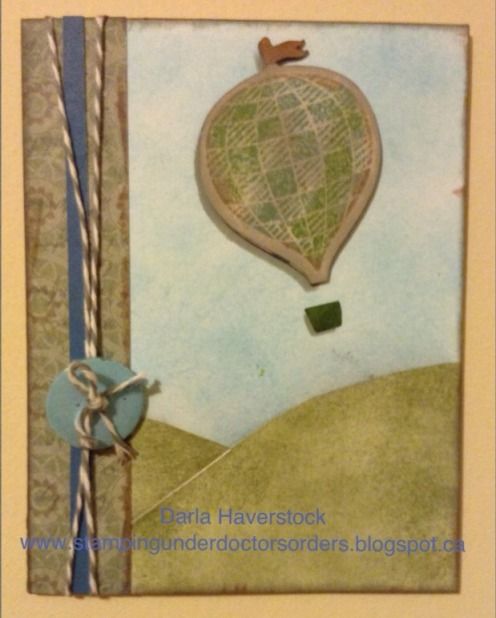 Your next stop on our "My Sunshine" hop is
Amber ~ Scrapper's Therapy
I am entering this in the Craft it up Link it up Linky Party
Here's the entire lineup in case you get lost along the way.
Thanks for hopping along with us - we hope we were able to inspire you.