If you are looking for the "3D Artiste Christmas" Cross Canada blog hop you can find it here.
Welcome to our "Family and Friends" Blog Hop where we are showcasing the exclusive Art Philosophy Cricut cartridge which can be purchased exclusively through a Close to My Heart Independent Consultant. This will be our last Art Philosophy blog hop for 2012.
We will be showing you creations made using the Art Philosophy cartridge for our family and friends.
If you just happened to come to this blog, you should start at the beginning at Lucy's blog - Love 2 Create . If you came here from Lucy's blog - Love 2 Create, then you're in the right place!
Now I could just tell you that I made this card because holidays are all about family and friends etc etc etc... but I'd be lying. I have a friend that I used to be VERY close with but we have grown distant over the last couple years. We always did just about everything together, including work together, drive in and home together, had our first child within the same month, etc etc etc. The other thing we used to do together was do all sorts of stupid things like drive past our houses when driving home (guess we were too busy laughing and carrying on to notice) among other crazy "flakey" things we did.
We were shopping together one day and went our own ways in the store to look around and when we met back up in the store we both had the exact same thing in our hands.... a ceramic snowman ornament with a couple snowmen arm in arm with quirky looks on their face and the little sign below them read "all my friends are just a little bit flakey". We had both decided it would be perfect for the other. After cracking up laughing neither of us ended up actually buying the ornament (not sure why... maybe just another "flakey" moment LOL) but from then on it became a running joke where every year as soon as the weather started getting colder we became "flakey" friends.
I decided to make a card for her to give her a little laugh because well... that's what friends do! Here's my card:
Here it is open: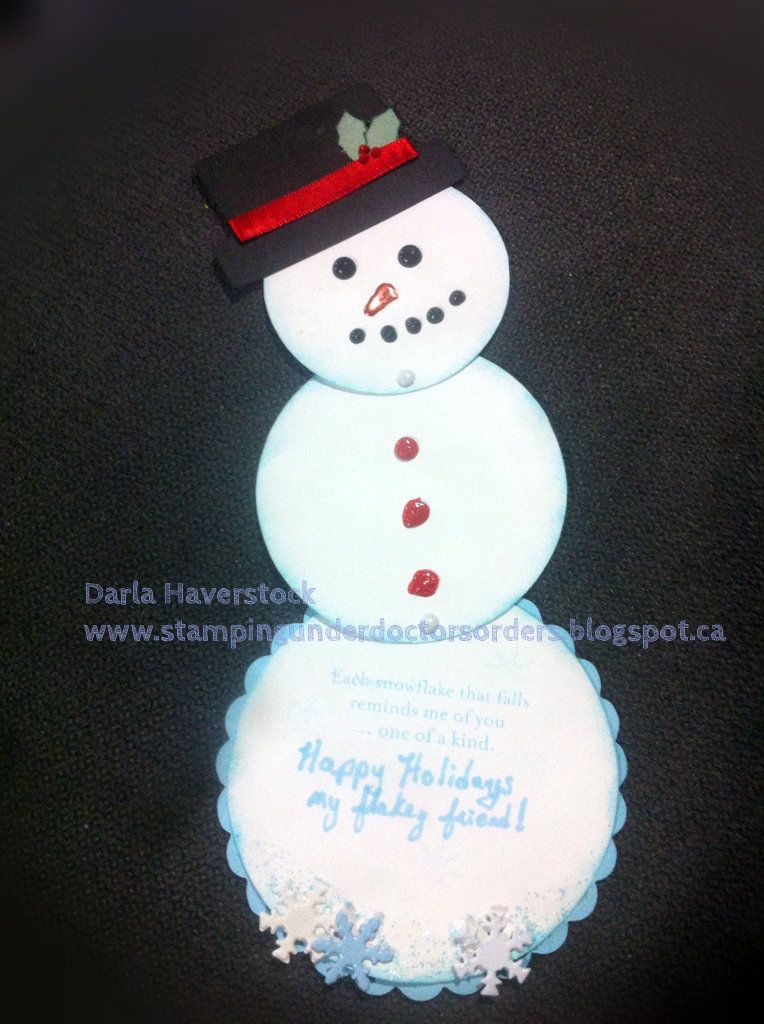 The circles (page 21) I cut at 3.5", 3" and 2.5". The scalloped circle (page 31) is 3.75".The hat is made up of the
on page 58 cut at "Fit to length" 2.5" and a rectangle shape (page 44) at "fit to length" 2". The holly leaves (Leaf3, page 46) were cut at 0.75".
All the eyes, nose, mouth, buttons and holly berries are viva decor pen and the snowflakes on the bottom are some brads I've had for a few years.
The next stop on your blog hop fun is Diana ~ Diana's Free Moments.
Here's the entire blog hop lineup in case you get lost along the way:
Thanks for joining us - have a wonderful and safe holiday with your friends and family.